Health Sector
Members work for the Saskatchewan Health Authority in northern and central Saskatchewan, the Saskatchewan Cancer Agency or JT Ambulance. There are more than 2600 SGEU members who are part of the Health Sector.
Mailing Address
Box 3459
Melfort, SK S0E 1A0
Phone: 306.921.4657
Sector Executive
Bea Fecke, Acting Chair
Sharri Laczko, Secretary, Acting Vice-President
Tammy Brown, Treasurer
Rob Buchanan, Member-at-Large
Trent Edwards, Member-at-Large
Ryan Favel, Member-at-Large
Genny Goodyear, Member-at-Large
Wendy McPhail, Member-at-Large
Wendy Simonson, Member-at-Large
Sector Bylaws
Health Sector Bylaws (revised November 2021)
Bargaining Guidelines
Health Providers (2022)
Bargaining Unit Representatives
Health Providers
Tanya Schmidt, Acting Chair
Sharri Laczko, Acting Vice-Chair
Jennifer Curry
Ryan Favel
Wendy McPhail
Sask. Cancer Agency
Trent Edwards, Co-Chair
Genny Goodyear, Co-Chair
Colyn Rempel
Pat Danyluk
Donna Zaba
Azure English
J.T. Ambulance
SGEU Health Sector App
SGEU's Health Sector app can help you stay up to date with the latest Health Sector news.
With this app, you can:
receive notifications directly to your phone about the latest bargaining updates;
​stay up to date on current news and events related to the SGEU Health Sector;
​provide feedback via online surveys, and;
easily access your collective agreement.
​Download the app today on the Apple Store or on Google Play
American Income Life Member Benefits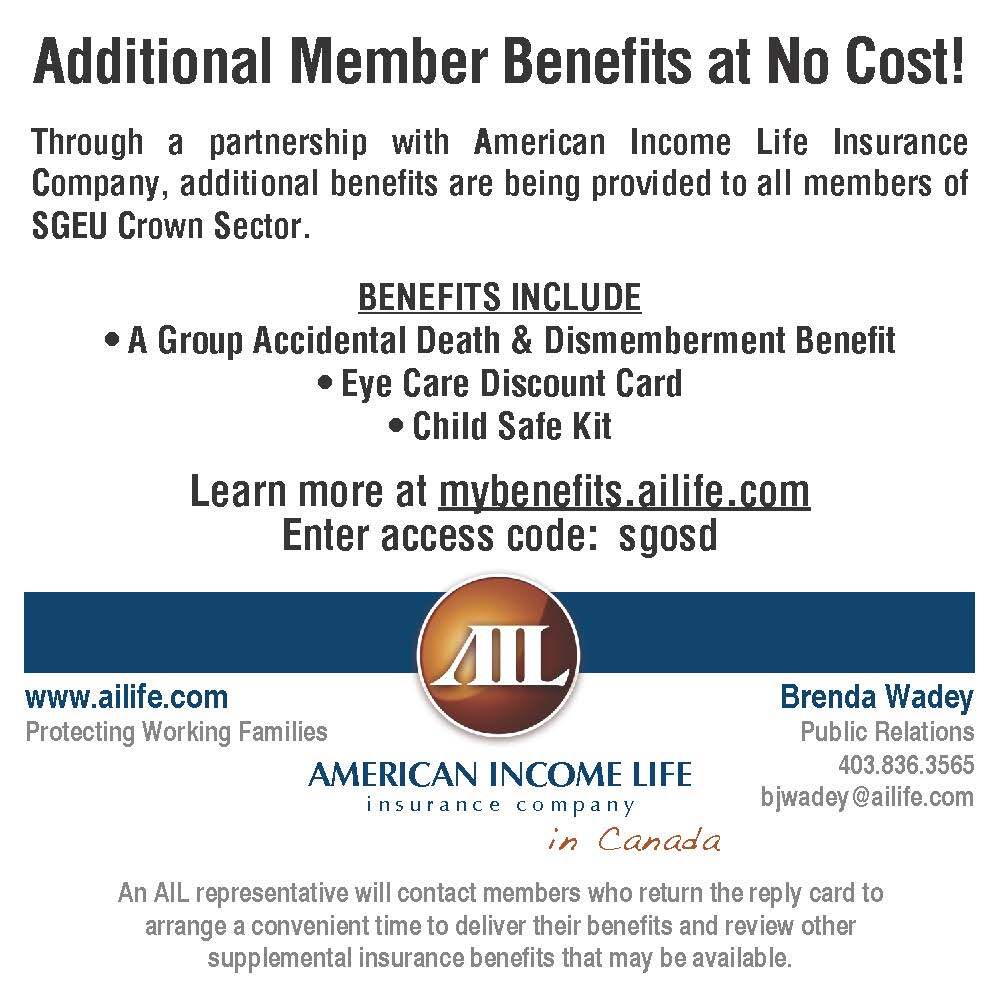 The SGEU Health Sector has a no-cost Accidental Death and Dismemberment (AD&D) benefit through American Income Life Insurance Company (AIL in Canada). This benefit covers all members in the Crown Sector, as well as added benefit coverage for spouses/partners and dependent children under the age of 19.
Members who return the response card will be contacted by an AIL representative to arrange a convenient time to deliver the no-cost benefits and explain additional supplemental insurance programs that are available to the member. Read FAQs about the AIL member benefits.
AIL, in business for over 25 years in Canada, is a 100% union insurance company dedicated to working families.
Learn more about the AIL member benefits. Enter the access code: sgosd
Sector Employers
Saskatchewan Health Authority
Saskatchewan Cancer Agency
J. T. Ambulance Services