I have spent the last few days in a state of shock and total sadness. I know I am not alone. Many of us are feeling disbelief and anger, but no one more than the SGEU members who learned suddenly this week that they are losing their jobs over the coming months.
Unfortunately, I have also been in a medically compromised position which has left me unable to be more physically present in the fight back against the recent government announcement of closing the remaining publicly funded liquor stores. Although I'm not physically able to be as available as I would like to be, I am staying informed about the situation and am committed to fighting for our members.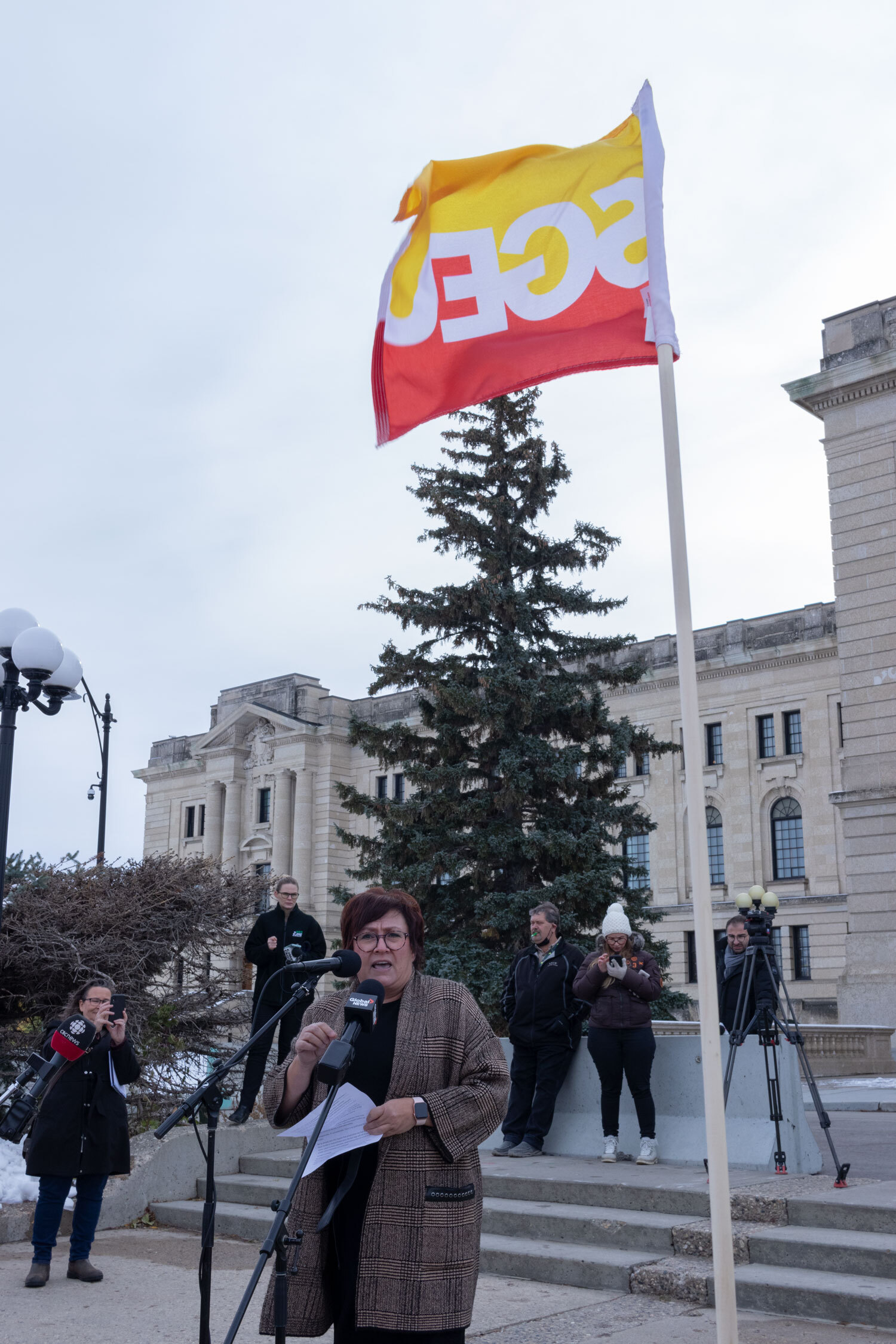 Rally at the Legislative Building
I was able to attend the Saskatchewan Federation of Labour rally at the Legislative Building yesterday, where I joined several hundred Saskatchewan people who voiced their support for working people in our province. The rally demonstrated the power we have when we come together and unite our voices in solidarity to ensure each and every person in Saskatchewan has a good job and a good quality of life. Thank you to everyone who joined us yesterday in a strong show of solidarity.
Devastating job loss for Saskatchewan workers
The loss of over 350 jobs in Saskatchewan is going to have a huge impact on families and communities. These are jobs that support families and local economies and were staffed by highly trained and highly knowledgeable workers—some who have been working for SLGA for over 45 years. Where will these workers go now? How many part-time minimum wage jobs will they need to work to earn a living wage? Let's not forget that our province continues to have the lowest minimum wage in the country.
Some of these workers – our families, friends, neighbours, fellow union members – based their loans, their house payments, their children's education, and their lives on their jobs. In a blink of an eye, in the passing of a short speech, those plans and dreams were diminished, if not gone, completely.
What is the plan to make up lost revenue?
I have to ask, what is Sask Party government's plan to make up the revenue that will be lost when our profitable public liquor stores are shut down? For decades, the revenue generated by these retail stores was used to help pay for crucial public services like health care, education, and highways. These services are already continuously underfunded.
The government claims that these stores have suffered a vast decrease in revenue in recent years and that's why they are closing them. I would argue that the reason revenues have dropped is because the government sold off over half the stores almost a decade ago with several more falling into private hands since then, so of course total revenue would have dropped.
The government has also hand-cuffed the public stores from competing on a level playing field with private stores, by not allowing SLGA stores to modernize and offer walk-in coolers or expanded hours, or to sell ice, pop and snacks – all features that make private stores more popular with some customers.
Privatization doesn't work well, ever
Yes, I would remind the government that, despite their best efforts to have the SLGA stores fail, the staff at these stores worked hard to ensure they remained profitable. We've seen the impacts that privatization has already had on the retail liquor market in Saskatchewan. Liquor is more expensive, small communities are underserved, and employees are underpaid. The decision to privatize didn't benefit most people in the past and it's not going to work well for Saskatchewan residents today.
Our public stores have held their own. The public stores provided good paying jobs with benefits and job security and they still provided funding for government infrastructure. Is the government's decision to gut 350 jobs with income and benefit security really because it's a cost savings? To sacrifice these healthy revenues, good jobs, and high-quality public services all in the name of "expanding opportunities for independent retailers" is irresponsible at best.
On behalf of the 20,000 SGEU members, I call on Premier Scott Moe and his government to stop privatizing our public services, stop destroying jobs, and stop ignoring the needs of Saskatchewan people. Lives and livelihoods are on the line.
To our members who received such devastating news in such a terrible way, please know that I stand with you. More details are emerging about this situation, and we will keep you up to date with information we receive.
Call for solidarity
To everyone in Saskatchewan, please stand in solidarity with your friends, neighbours and community members, stand up for public services and demonstrate your support for them. Enough is enough.
In solidarity,
Tracey Sauer (she/her)