Workplaces and governments urged to provide free menstrual products in all bathrooms
Regina, SK – The Saskatchewan Government and General Employees' Union (SGEU) reaffirmed its commitment to promoting gender equality on Menstrual Health Day by launching a new initiative that involves partnering with Moon Time Sisters to drop off menstrual products at workplaces and public facilities across the province.
The SGEU Women's Committee members and others will be dropping off individually packaged menstrual products and information about period poverty. A note included in each package encourages members of the public to challenge their workplaces and governments to provide free menstrual products in all bathrooms.
"It's not acceptable for anyone to make budget sacrifices or miss school, work or be unable to participate in other day-to-day activities because they can't afford menstrual products," said SGEU President Tracey Sauer. "I'm proud that the SGEU Women's Committee is taking action to help educate SGEU members and the public about this issue."
The SGEU Women's Committee's partnership with Moon Time Sisters in 2023 includes raising funds for the organization and helping collect and distribute menstrual products to those in need. The partnership also calls on all levels of government and other organizations to provide free menstrual products in all public spaces and workplaces.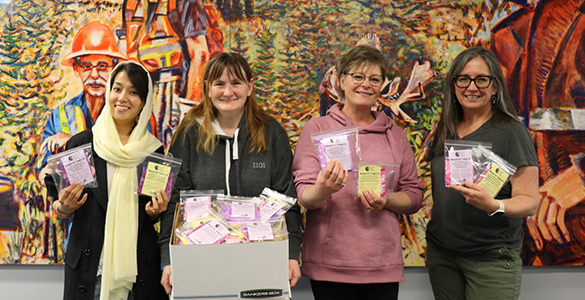 In early May 2023, the federal government made changes to the Canada Labour Code that will require federally regulated workplaces to provide free menstrual products in the workplace. The provincial government recently announced a partnership with Shoppers Drug Mart to provide 12 million menstrual products over the next three years to those in need, however implementation details are still to come.
"These are good first steps by both the federal and provincial governments, however they need to continue taking concrete actions and providing leadership to ensure no one who menstruates struggles to access menstrual products," said SGEU Women's Committee Chair Tanya Turner. "Menstrual products are essential and should be as accessible as soap and toilet paper in workplaces and public spaces."
"I'm grateful for the support from SGEU and its Women's Committee," said Nicole White, founder of Moon Time Sisters. "It's partnerships like these that will help put an end to period poverty and the stigma around menstruation."
Every day in Saskatchewan and across the globe, people experience stigma simply because they menstruate. Menstruation is seen as a taboo subject for many, leading to feelings of embarrassment and hesitation to discuss issues around this natural process. In addition, too many people face barriers because they cannot access menstrual products.
-30-
For more information, contact:
Carolyn Rebeyka (she/her)
Communications Officer, SGEU
306-519-2903
Nicole White (she/her)
Founder, Moon Time Sisters
306-270-7667
Menstrual Health Day is celebrated annually across the globe on May 28 to highlight the importance of menstrual care and raise awareness about issues faced by those without access to period products. Marginalized communities, such as refugees, homeless individuals, sex workers, trans and non-binary people, Indigenous communities, and people living in rural and remote areas are at the greatest risk of period poverty.
Period Poverty Facts: A survey by Plan International Canada states that nationally, one in five people who menstruate struggle to afford period products for themselves or a dependent. Two-thirds of those who menstruate regularly or occasionally miss an activity because of their period or due to concerns about not being able to access menstrual products. The average person who menstruates will spend up to $6000 in their lifetime on menstrual products, and for women in remote and rural areas the cost is even higher.
Moon Time Sisters was founded in Saskatchewan in 2017 and has grown to include 3 other chapters in Ontario, Manitoba and British Columbia. The volunteer-led organization has partnered with over 65 northern Indigenous communities across the country and has shipped over two million period products to schools, midwifery organizations, health care centres, Friendship Centres, shelters, food banks and community programs in several Canadian provinces and territories. Moon Time Sisters provides menstrual products at no cost to remote communities where access is limited and costs are prohibitive. For more information, visit https://truenorthaid.ca/moon-time-sisters/.
The Saskatchewan Government and General Employees' Union has been working together for Saskatchewan since 1913. Today, SGEU represents 20,000 members in six sectors across Saskatchewan.