February 12, 2021
REGINA - SGEU is adding our voice to the call to end for-profit ownership of long-term care homes in Saskatchewan. The below open letter was sent today to Minister of Seniors Everett Hindley and Minister of Health Paul Merriman.
---
An Open Letter to the Honourable Everett Hindley, Minister of Seniors and the Honourable Paul Merriman, Minister of Health,
On behalf of the 20,000 members of SGEU, we are asking your government to end for-profit ownership of long-term care homes in Saskatchewan.
Seniors and advocates have been telling us for years how bad the conditions are in our province's for-profit care homes. Now the pandemic has exposed these conditions as downright dangerous.
These facilities are badly understaffed, with staff-to-resident ratios at dangerously low levels. The lack of resources and time per resident means that as hard as they try, staff are unable to provide basic levels of dignity to residents, like regular hand-washing and timely bathroom breaks. While understaffing is a serious problem in all long-term care facilities in Saskatchewan, the drive to minimize payroll costs and maximize profits make the problem even more grave in private facilities.
Throughout this pandemic, workers in for-profit facilities have stepped up and done their utmost to provide quality care under these impossible circumstances – but it's time our province stops enabling a system that puts workers in this position to begin with. We cannot continue to allow private companies to treat hard-working staff and vulnerable residents as a cash grab, sacrificing their dignity, their safety, and even their lives in order to pay shareholders hefty dividends.
Your government must step in and place these facilities under the ownership of the Saskatchewan Health Authority (SHA), address staffing levels, and start enforcing higher standards of care. The SHA has already had to assume operational control over the for-profit Extendicare Parkside long-term care facility in order to bring a heartbreakingly deadly outbreak under control. It is time to make that change permanent and extend it to all other for-profit long-term care facilities.
The COVID-19 infection and death rates in private long-term care homes demonstrate that the current system is not working. While the COVID-19 pandemic has put a terrible strain on all the province's long-term care facilities, for-profit long-term care facilities have been far less successful in protecting their residents and staff.
In Saskatchewan, staff accounted for 234 cases, or one-third, of Saskatchewan's COVID-19 infections in long-term care as of February 8. While our province has not seen any deaths as a result of those infections, we cannot assume the status quo will hold. According to the National Institute on Ageing there have been 26 deaths amongst LTC staff in Canada to date, and while the institute's data does not specify which worker deaths and infections occurred in for-profit facilities, we would be naive not to recognize that the factors which put residents at greater risk also increase the dangers for workers.
As of January 27, there had been 90 deaths among long-term care residents in Saskatchewan. Your own records show a disproportionate 39 of those deaths occurred in the province's five for-profit special care homes.
However, 39 deaths are likely an understatement of the true loss of life at for-profit care homes because it has been reported by the news media that the outbreak at the Extendicare Parkside facility alone accounted for 41 resident deaths, and an outbreak at Extendicare Preston has taken nine more lives as of this writing.
By comparison, Saskatchewan's more than one hundred public long-term care facilities had seen 17 deaths in total as of January 27 – still an alarming number, but dramatically lower than the rate in for-profit facilities. The numbers are clear: a resident in a for-profit long-term care facility is far more likely to die of COVID-19 than a resident in a public facility.
This is by no means a phenomenon unique to our province. In Manitoba, for-profit LTC facilities accounted for 55% of all deaths in long-term care as of December 11, despite making up only 13% of the province's LTC facilities. Figures from Ontario and Quebec also show that a greatly disproportionate number of deaths have occurred in for-profit settings.
Abolishing for-profit long-term care homes in Saskatchewan is the right decision to protect residents and frontline workers. Saskatchewan has a world-class public health care system, and we have every reason to believe that public takeover of our province's for-profit care facilities will result in fewer infections for workers and fewer deaths for residents.
It's time to step up and do the right thing, ministers. Lives depend on it.
Sincerely,
Roseann Strelezki
Secretary-Treasurer & Acting President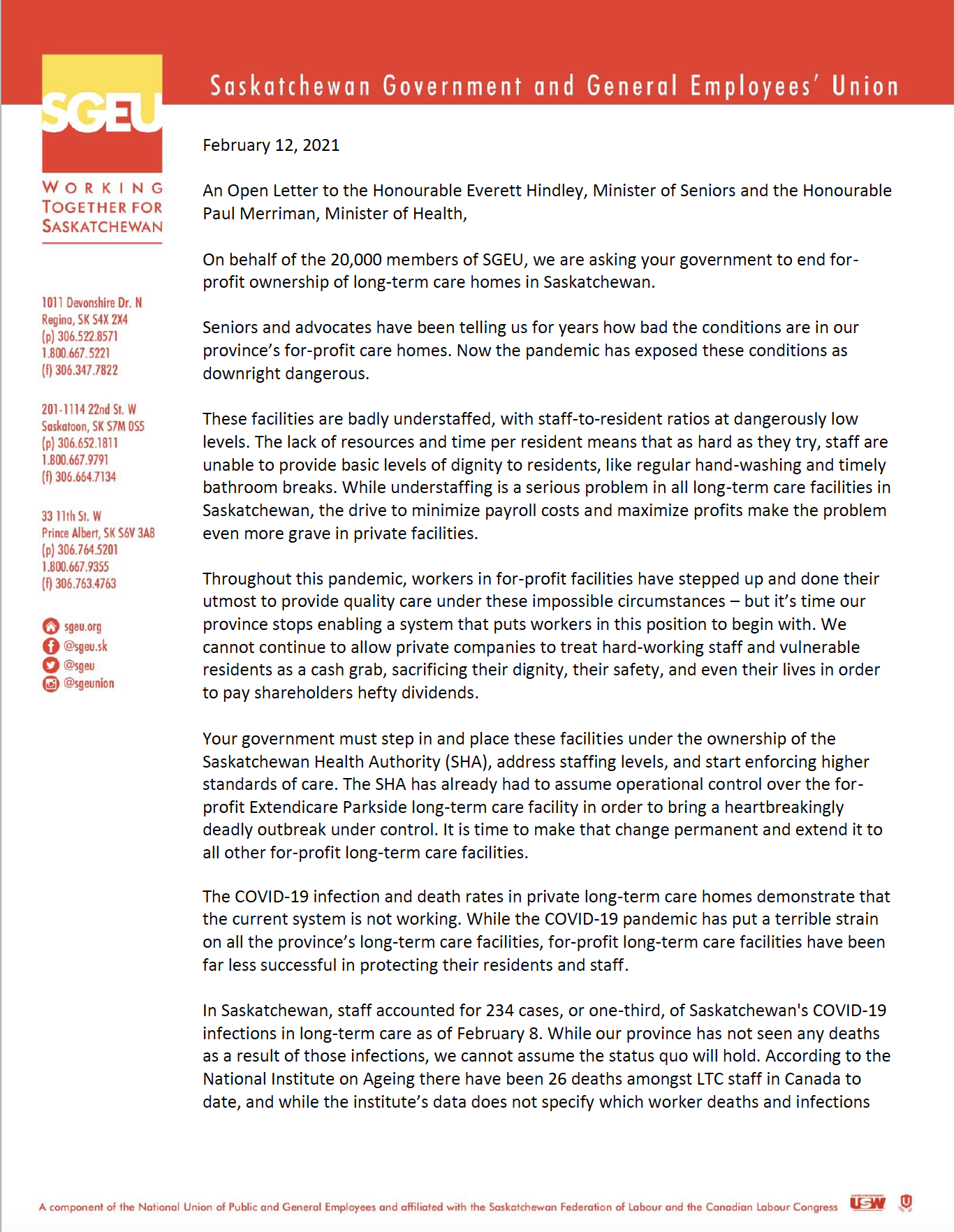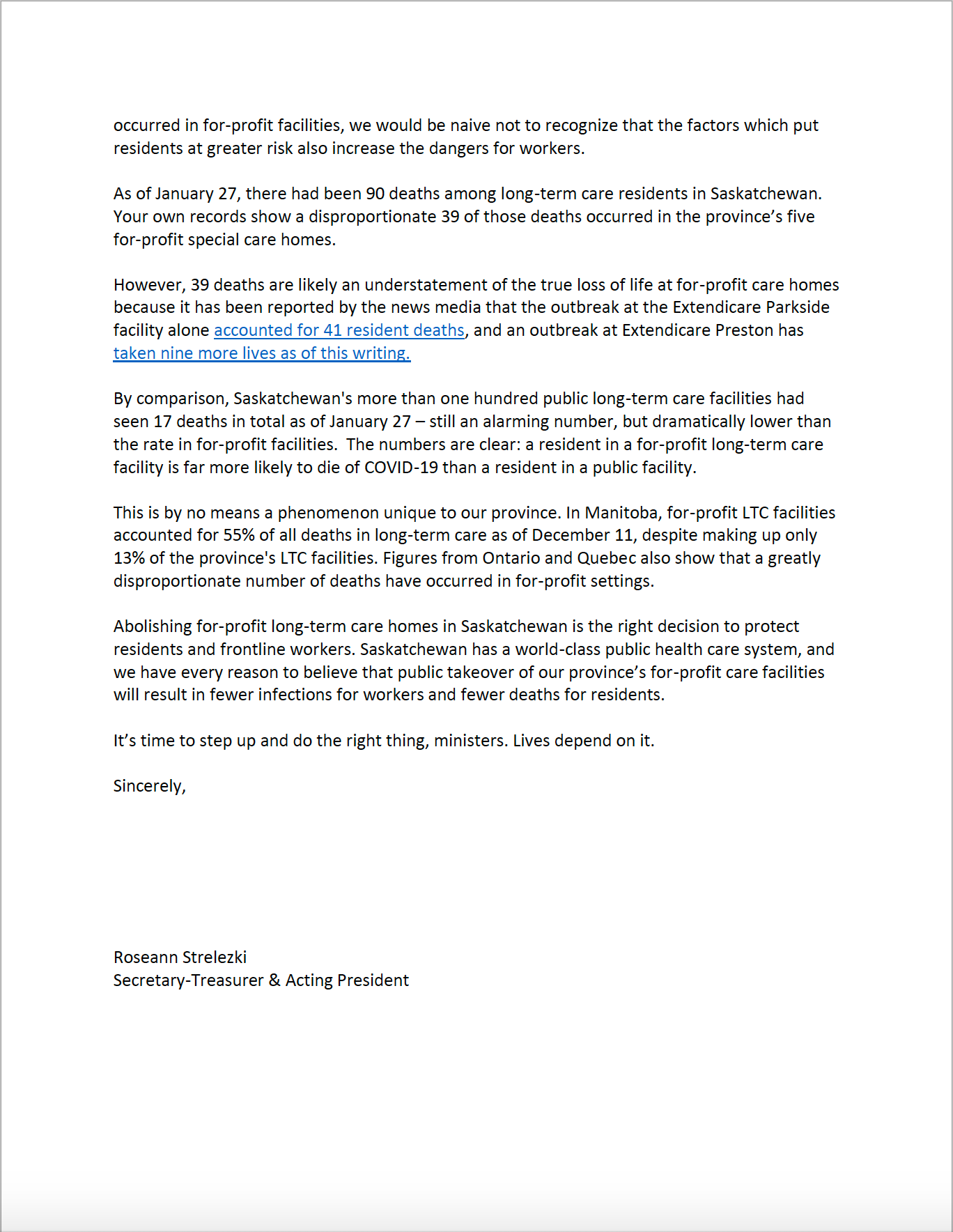 - 30 -
---
The Saskatchewan Government and General Employees' Union (SGEU) represents more than 20,000 members across Saskatchewan, including many workers in long-term care facilities.
For more information or media inquiries, please contact:
Amy Huziak - Communications Officer, SGEU
306-530-5683