Fentanyl Awareness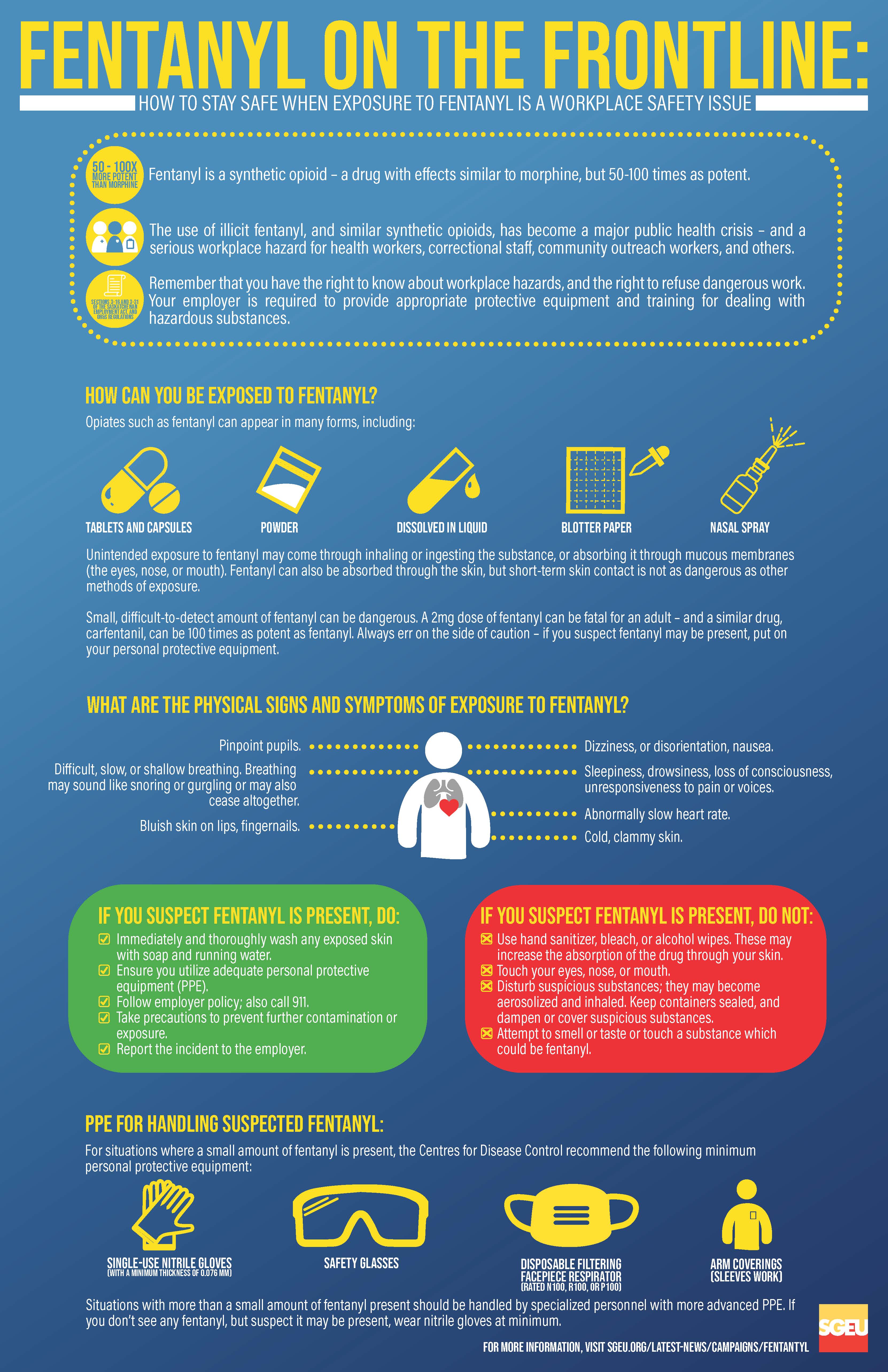 Fentanyl on the Frontline
SGEU has compiled the following resources for further reading on workplace exposure risks and preventative measures regarding fentanyl.
Download SGEU's poster or contact our office for a print copy to put up at your workplace. Downloadable poster is 11x17.
INFORMATION ON FENTANYL:
Fentanyl: Advisory for Saskatchewan Health Care Providers (Saskatchewan provincial government)
Interim Guidance for First Responders: Opioid Misuse (Alberta Health Services)
First Responder PPE and Decontamination Recommendations for Fentanyl.pdf (U.S InterAgency Board for Equipment Standardization and Interoperability)
Fentanyl: Preventing Occupational Exposure to Emergency Responders (Centers for Disease Control)
Fentanyl Equipment and Personal Protective Equipment for Law Enforcement (FentanylSafety.com)
Fentanyl: A Briefing Guide for First Responders (U.S. Drug Enforcement Agency)
Safe Handling of Suspected Drugs (FentanylSafety.com)
Fentanyl Exposure, Protection, and Treatment: Myths and Facts (Health Canada)
The Truth About Transdermal Fentanyl Exposure (Graves Associates)
THE RIGHT TO REFUSE:
Under the Saskatchewan Employment Act, Section 3-31, you have the right to refuse unusually dangerous work. Remember this right if you are ever instructed to handle fentanyl (or suspected fentanyl) without proper training and protective equipment.
The Act specifies that:
"A worker may refuse to perform any particular act or series of acts at a place of employment if the worker has reasonable grounds to believe that the act or series of acts is unusually dangerous to the worker's health or safety or the health or safety of any other person at the place of employment until:
(a) sufficient steps have been taken to satisfy the worker otherwise; or
(b) the occupational health committee has investigated the matter and advised the worker otherwise.