Trigger warning: This post discusses the topic of missing and murdered Indigenous women, girls and two-spirit people. If you are affected by this conversation and require immediate emotional support, the National MMIWG crisis line is available 24/7 to help you. Call 1 (844) 413-6649.
---
Today SGEU President Tracey Sauer, 1st Vice-President Diane Ralph, Indigenous Vice-President Hali Topinka, and FAIR Committee Chair Sheena Yew attended the Red Dress Awareness Day event at the Saskatchewan legislature, hosted by the Federation of Sovereign Indigenous Nations' Women's Commission and Women's Secretariat.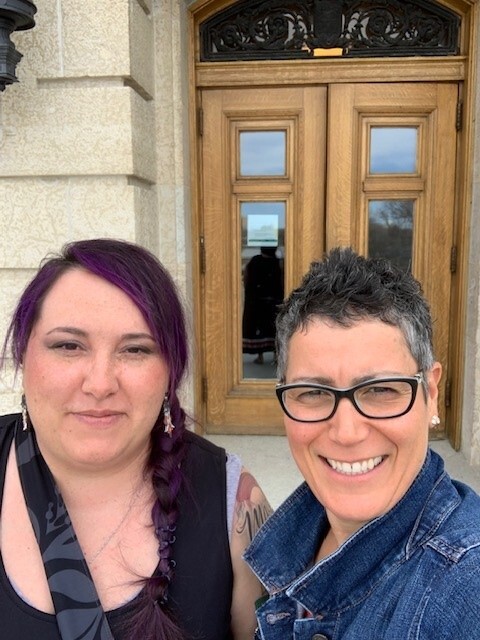 May 5 is Red Dress Day, the National Day of Awareness for Missing and Murdered Indigenous Women, Girls and Two-spirit People (MMIWG2S). The day is an opportunity to honour and remember those who have gone missing, and those whose lives have tragically been stolen from them. It is also an opportunity to support the families and communities whose lives have been altered forever, and to advocate for the violence against MMIWG2S to stop.
"SGEU stands in solidarity with missing and murdered Indigenous women, girls and two-spirit people. No one should ever have their lives cut short and no family or community should ever experience such a tragic loss," said Tracey Sauer, SGEU President.
"SGEU is committed to helping and supporting Indigenous women, girls and two-spirit people. We raise our voices in solidarity to break the silence around the injustices suffered by far too many individuals and families for too long, and that continue today."
Did you know?
In 2016, the National Inquiry into Missing and Murdered Indigenous Women and Girls was launched by the Government of Canada. The inquiry's vision was "to build a foundation that allows Indigenous women and girls to reclaim their power and place." The truths of more than 2,380 family members, survivors of violence, experts and Knowledge Keepers were compiled in the inquiry's final, two-volume report which also includes Calls to Justice.
Why red dresses?
The symbol of red dresses is rooted in the Red Dress Project, an installation art project by artist Jamie Black, that is "based on an aesthetic response to this critical national issue". The installation includes red dresses that are displayed to provide "a visual reminder of the staggering number of women who are no longer with us".
Ideas for how you can support for Indigenous women, girls and two-spirit people