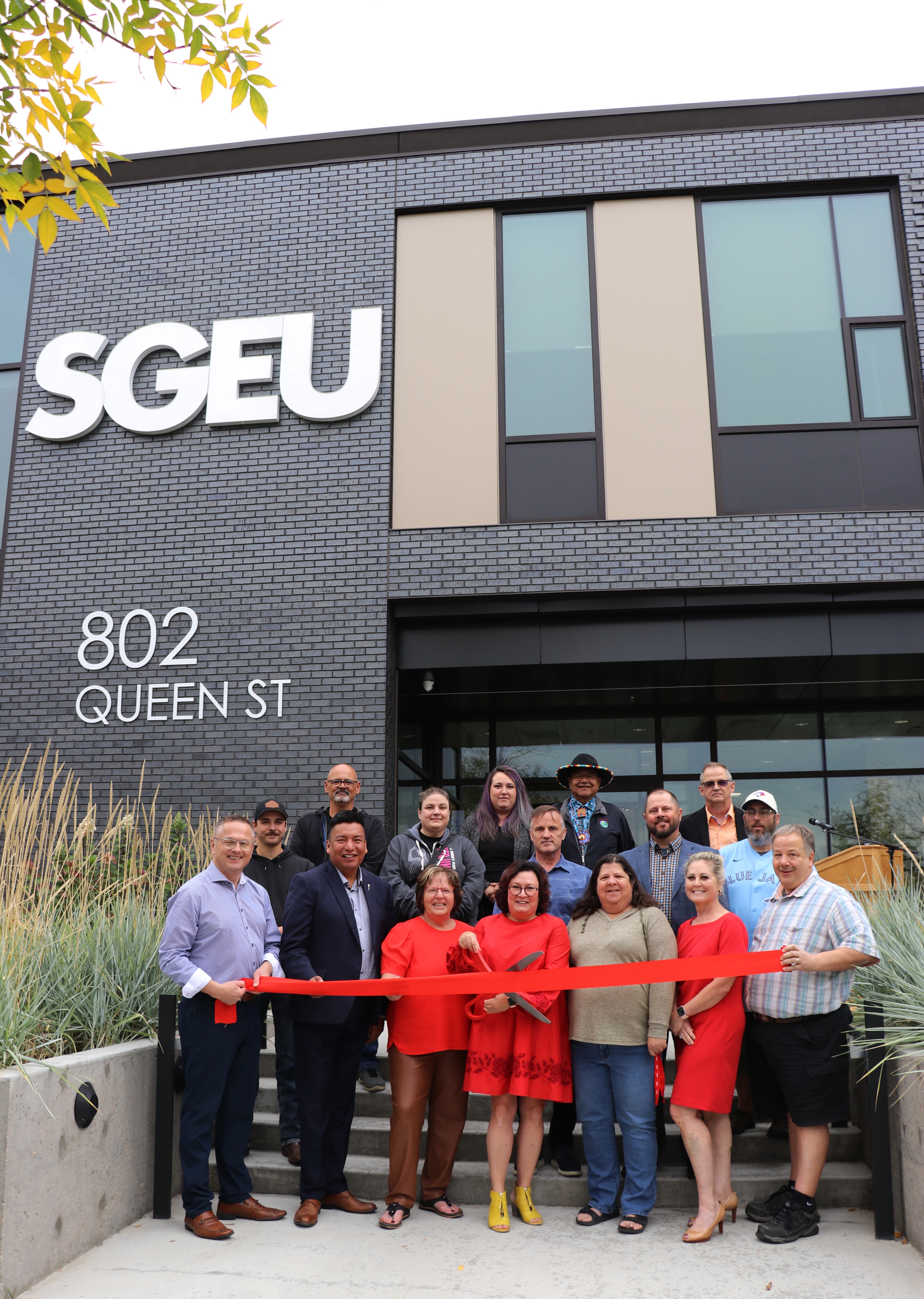 FOR IMMEDIATE RELEASE
September 19, 2023
SASKATOON, Sask.—SGEU members, elected officials and staff gathered with community members and dignitaries today for the grand opening of SGEU's new Saskatoon office, located at 802 Queen St.
The day's events started off with a blessing from Elder Wallace Awasis from Thunderchild First Nation followed by remarks from MLA Jim Lemaigre on behalf of Labour Minister McMorris, Saskatoon Ward Councilor Darren Hill, Saskatoon & District Labour Council President Don MacDonald and SGEU President Tracey Sauer. Afterwards, visitors enjoyed a barbecue meal and tours of the new space.
Sauer was excited to see approximately 200 people come out to celebrate the new location of the SGEU office, which she described as a hub of activity to support workers' rights throughout all of Saskatchewan.
"This newly renovated building is a space where SGEU members can gather with each other to connect, share ideas and create change," said Sauer. "The energy of members and staff that fills this building will be a catalyst for positive changes for workers across the province."
The staff and facilities in the new space will serve SGEU members in central Saskatchewan—over 2,000 of which work in Saskatoon. Staff have been working in the new space since April 2023.
-30-
For more information, contact:
Hannah Senicar (she/her)
SGEU Communications Officer
(306) 531-3706
hsenicar@sgeu.org
About SGEU
The Saskatchewan Government and General Employees' Union has been working together for Saskatchewan since 1913. Today, SGEU represents 20,000 members in six sectors across Saskatchewan. Visit sgeu.org to learn more.
Photo caption
Members of SGEU's Administration Committee, the building committee and special guests prepare for the ribbon cutting to officially open SGEU's new office building in Saskatoon. (Photo provided by SGEU).