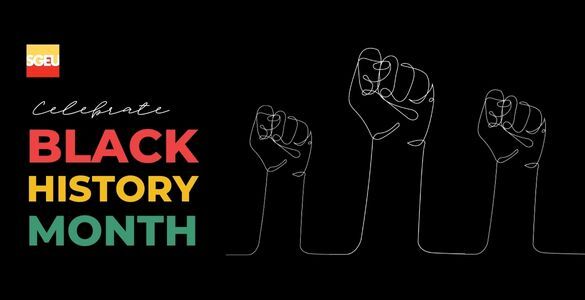 Black History Month is a time to give special focus to honouring and celebrating the legacy of Black people in Canada and their communities.
The Government of Canada's theme for Black History Month this year is "Ours to tell" and it captures the opportunity to engage in dialogue and to commit to learning more about the present and past stories Black communities have to tell.
There are many ways to learn about Black history and history-in-the-making. We've compiled five things you can do this month and we hope they will inspire you to continue honouring and celebrating Black communities throughout the year.
Learn about the first Black labour union in North America
Black men employed as sleeping car porters in Canada from the late nineteenth century until the mid‐1950s experienced racial discrimination and exploitation on the job. To improve their situation, they turned to unions such as the Order of Sleeping Car Porters (OSCP) and the Brotherhood of Sleeping Car Porters (BSCP) and fought for better wages and working conditions. (From the Canadian Museum for Human Rights website)
Learn about how sleeping car porters organized
Attend an event hosted by the Saskatchewan African-Canadian Heritage Museum (SACHM)
SACHM honours the history and contributions made of "African Descent" former or present residents of Saskatchewan. The museum also supports those currently making an impact in Saskatchewan. By offering events throughout the year, SACHM aims to preserve, strengthen and promote a multicultural approach in community.
Read a book by a Black author
Regardless of your age, there are many excellent books to be enjoyed that have been written by Black authors. Check out these recommendations for adults or kids and let us know which one you're interested in reading! Or, why not pick 11 and read one each month for the rest of this year?
Listen to a CBC interview with Muna De Ciman, Chair of SGEU's Human Rights & Equity Committee
If you live in Regina and you're young, an African immigrant, a union organizer or even a Saskatchewan Roughrider, chances are you know "Aunty Muna." A community fixture in the Saskatchewan capital, Muna De Ciman can be found supporting youth who have come into contact with the justice system as part of her 9-to-5 job, mentoring African youth, lending a helping hand at protests, cooking meals for professional football players and so much more. Black on the Prairies creators Ify Chiwetelu and Omayra Issa called Aunty Muna to discuss her passion for community work, and to surprise her with cameos from two young activists and former Saskatchewan Roughriders general manager Roy Shivers. (From CBC)
Connect with SGEU's Human Rights & Equity (HRE) Committee to find out how you can support anti-racism initiatives in our union
Our union's HRE Committee is responsible for all matters related to equity issues and international, national and local solidarity work; it promotes equity in employment and within the structure of SGEU. Reach out to find out how you can help support this committee's important equity-seeking work.