June is National Indigenous History Month and today is National Indigenous Peoples Day. This month and day are a time to recognize the rich history, heritage, resilience and diversity of First Nations, Inuit and Métis peoples. It's an opportunity to acknowledge those who have lived on this land since time immemorial and whose presence continues to impact our evolving country.
Saskatchewan is the traditional territory of the Cree, Dene, Dakota, Nakota, Lakota, and Saulteaux peoples and the homeland of the Métis Nation. We are grateful for the opportunity to live and work here and we thank the many generations of people who have taken care of this land.
---
Orange hands canvas project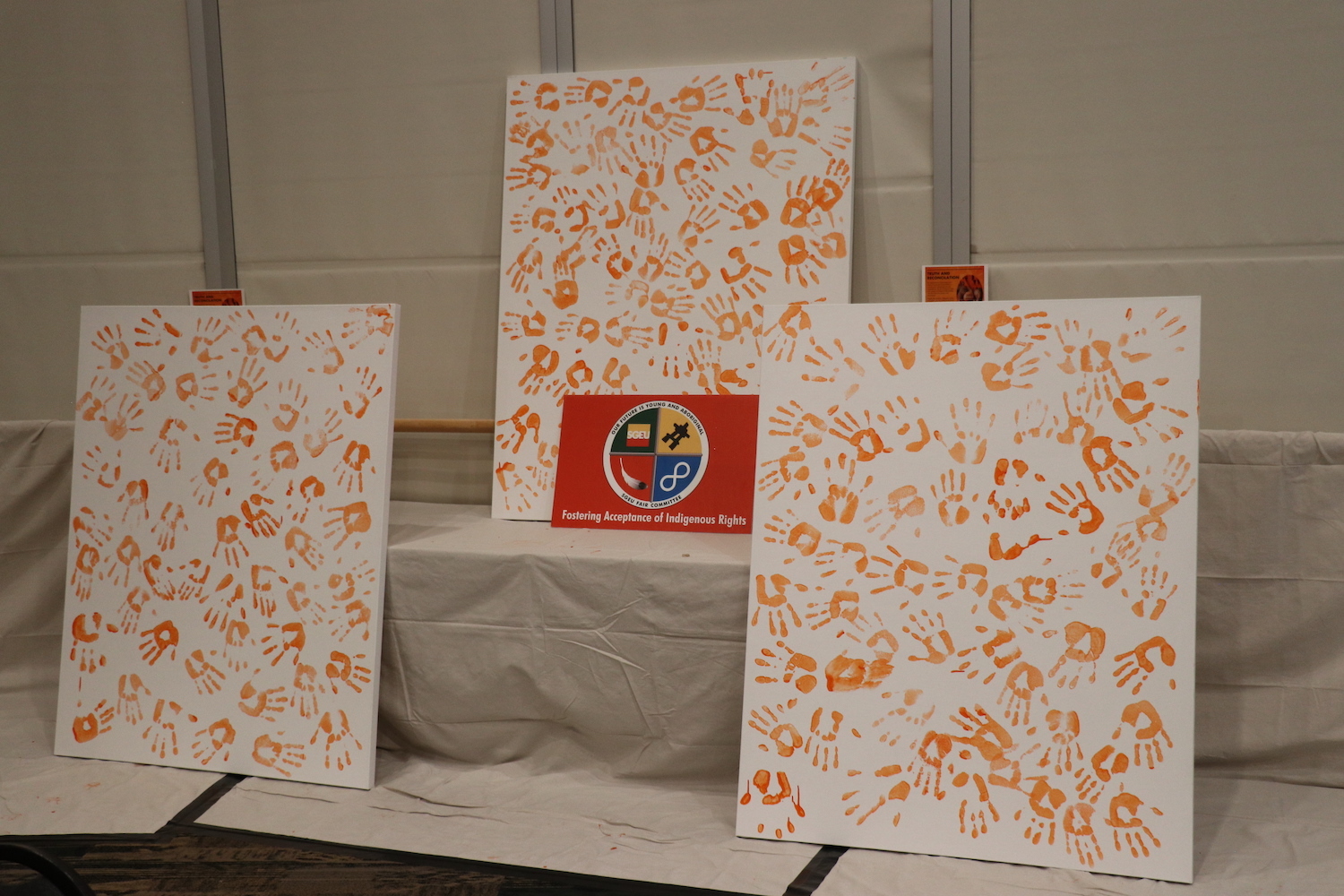 At this year's Convention, friends, life members, delegates, visitors and guests were invited to paint their hand and place it on one of three canvases. The Indigenous Committee put forth the project to acknowledge the children that never made it home to their families or communities from residential schools. This project was to build awareness and build relationships within our union.
By placing our handprints on the canvases, we sought to reclaim, regenerate and reconnect our relationship with the Indigenous homelands, cultures and communities and show our support for truth and reconciliation.
These canvases will be placed in all three SGEU offices to reflect our acknowledgment and appreciation of the Cree, Dene, Dakota, Nakota, Lakota, and Saulteaux peoples and the Métis Nation, on whose land we work and live.
---
A message from our Indigenous Vice-President, Hali Topinka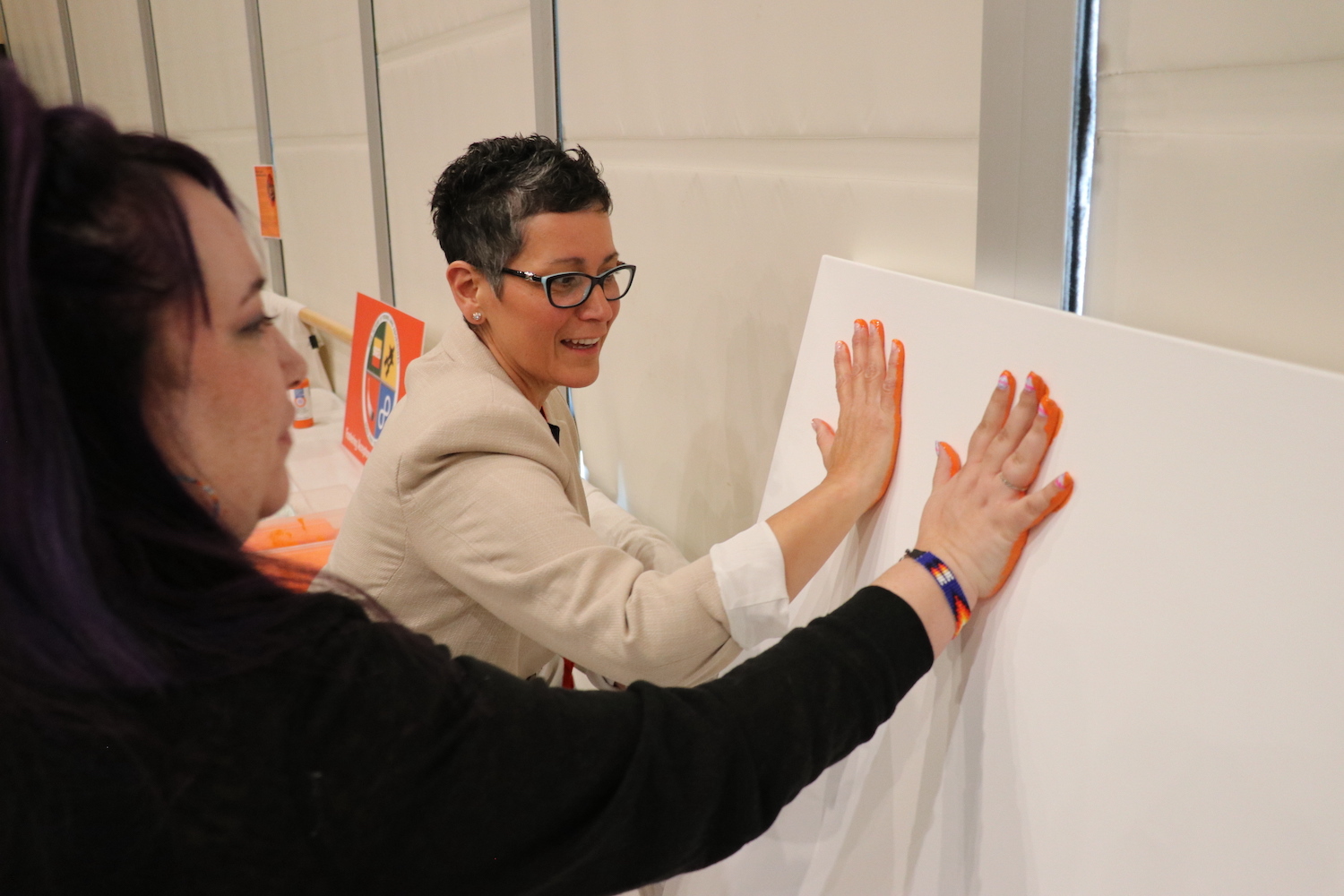 As our union continues on a path of truth and reconciliation, we are finding ways to invite members to take part in that journey in ways that are engaging, thought-provoking and that spark conversation.

These three canvases filled with handprints will be displayed in each of our offices. They will offer a daily homage to the children who didn't come home from residential schools and the survivors who did. And they will remind us of our ongoing commitment to creating a better future.

Art is a powerful tool to prompt conversations that build knowledge and art can inspire action and change. Our hope is that when members and guests visit our offices and see these canvases, they will be inspired to learn the truth about the past and to act on reconciliation each day.
In solidarity,
Hali Topinka (she/her)
SGEU Indigenous Vice-President
---
A word from our President, Tracey Sauer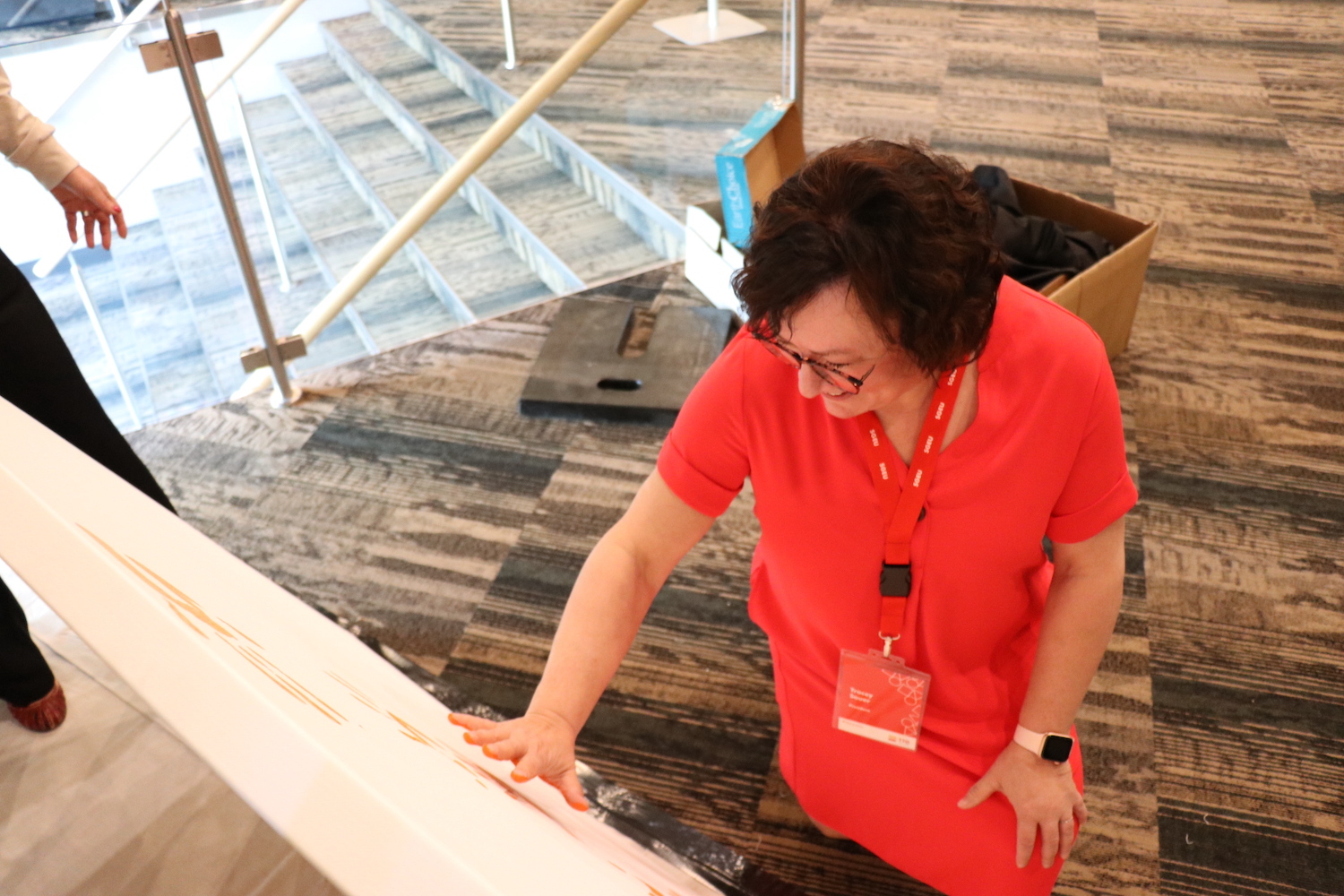 SGEU is committed to truth and reconciliation and moving our union forward in a positive fashion.
The Truth and Reconciliation Commission's 94 Calls to Action should be more than just a check list. Many of these calls to action are relevant to the work of our union and SGEU's standing committees. We have a responsibility to undertake this vital work. We recognize the need for all organizations, governments and the public alike, to take action, which is why we have included the TRC Calls to Action in our strategic plan.
This month, SGEU is pleased to recognize the rich heritage, diverse cultures and outstanding contributions of First Nations, Inuit and Métis peoples. The more we learn and know, the more we can grow together. I challenge our members and the public to take a step towards fulfilling the TRC's Calls to Action.
I am proud to work and live on Treaty 4 Territory and Treaty 6 Territory and the homeland of the Métis Nation.
In solidarity,
Tracey Sauer (she/her)
SGEU President