Temporary Wage Supplement For Lower-income Workers At Essential Care Facilities
Recently, the Government of Saskatchewan announced a wage top-up program for lower income workers who are helping the most vulnerable citizens in the province. The federal government is supplying $53 million dollars and the provincial government is contributing $3 million to fund this program.
Applications for this program are now available.
For application forms, eligibility criteria and more information about the program, please check the provincial government website found here.
This wage top-up will provide much-needed assistance for some of our members. However, SGEU will continue to press the government to recognize the extraordinary challenges faced by so many others during the COVID-19 pandemic.
---
A message from the President
SGEU President's Message – March 31, 2020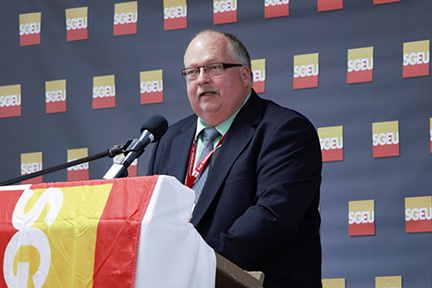 As we are into another week of developments with the COVID-19 pandemic, we see the number of cases increasing more dramatically in Saskatchewan and, unfortunately, two deaths attributed to COVID-19. The increase in the infection rate is to be expected, since the results of self-isolation and physical distancing have not yet fully kicked in. We must stay vigilant and continue doing everything we can to stay safe and flatten the curve to help prevent the spread of the virus.
I want to take this opportunity to recognize and thank all those who are working on the front lines during this pandemic, including members of SGEU and other unions as well as those who are not members of a union. Your efforts and sacrifices are not going unnoticed at this difficult time. From health care workers and corrections officers to social services staff and those who work in community-based organizations, you continue to deal face-to-face with some of the most at-risk residents in our province. We also recognize many workers on the front lines in the retail sector and in private industry. Those working behind the scenes in laboratories, information technology, data processing centres and program areas are also crucial to keeping vital programs and services available.
I also want to thank all those who have been uprooted from their regular workplaces and now find themselves working from home. This can be a stressful and confusing time as you navigate this new way of getting your work done, while also juggling such new challenges as having school-aged children home from school, concerns about loved ones in care homes and hospitals, and potential reduction in family income. Your willingness to face these challenges helps ensure that important work continues to get done for the people of this province.
Wherever possible, please offer your thanks and encouragement to those providing services at grocery stores, pharmacies, gas stations and other workplaces that are deemed essential. These often-undervalued employees have become essential frontline workers, risking their health to ensure needed supplies are available to the public, and they should know how much we appreciate their efforts.
I continue to participate with Sector Vice-Presidents and Bargaining Unit Chairs in regular phone meetings and discussions with representatives from the provincial government, the Saskatchewan Health Authority and others providing leadership and guidance during this pandemic. We are trying to stay updated on any developments that impact our members and their families. We will continue to press for all employers to provide a safe work environment for our members and support for those who need to take time off to deal with health challenges or family responsibilities. It's critical for employers to do what it takes to keep the workforce healthy and safe, not only to ensure services and programs can continue but, more importantly, to ensure workers don't put their family, friends and the public at risk. When a worker becomes ill due to the nature of their job, support must be available to assist that individual in dealing with family responsibilities and potential financial impacts.
Some of you will have heard news reports that confirmed four corrections officers in Saskatoon recently tested positive for COVID-19. SGEU has been calling on the provincial government to take action for some time to address safety problems in our jails and other institutions. Issues such as close confinement and the need for increased staffing and proper equipment make the dangers of a pandemic even more severe. We will continue to call for increased safety measures to ensure our members are protected in these high-risk facilities through increased testing of inmates and staff, increased availability of personal protective equipment such as masks and gloves, and open, transparent communications about pandemic planning for staff and inmates. The current pandemic shows how vulnerable our correctional centres and similar institutions are to disease outbreaks, and should be a siren call for urgent action by the government to address the situation now and for the future.
As an SGEU member, if you require more information about your specific situation at work, please start by speaking with your supervisor and accessing information about your workplace. If you have concerns or additional questions, please check with your local Steward or one of our SGEU labour relations officers. Although our office is closed to the public and members, we are committed to providing high-quality services to our members via telephone (1-800-667-5221) or by email (memberinfo@sgeu.org.) The SGEU website also contains helpful information about the COVID-19 pandemic and how it relates to you. Other information about guidelines and restrictions, as well as new government programs related to the pandemic, can be found on the Saskatchewan government website or the Government of Canada website.
Please stay safe. Stay home. Wash your hands. Follow proper hygiene practices. Continue to support local businesses. Take care of yourselves and each other.
In solidarity,
Bob Bymoen

*Symptoms of COVID-19 are fever, cough, sore throat, shortness of breath, and generally feeling unwell. Use this self-assessment tool to determine if you should be tested for COVID-19.
---
Convention 2020 Update
2020 Convention Postponed
Provincial Council held a conference call on March 24 and passed a motion to postpone our convention until further notice.
This decision was necessary due to the restrictions put in place by the province that no gatherings over 25 people be allowed during this pandemic, as well as guidelines put in place by the federal government for risk-informed decision making for mass gatherings. We want to do what we can to ensure the health and safety of our members, staff and the public at this time.
A number of related issues will need to be determined in the coming days and weeks, including what to do about resolutions, elections and reports, as well as a new date for the convention. These decisions will be made by Provincial Council or deferred to the Administration Committee or the COVID-19 Task Team.
We will provide you with updates as soon as new information is available or decisions are made.
---
Information from the Government of Saskatchewan
Information from the Government of Canada
---